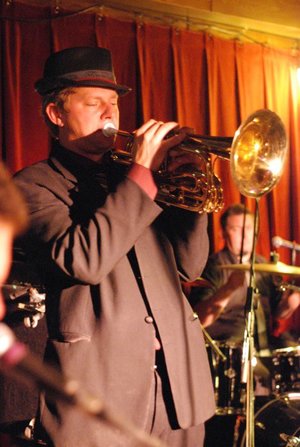 The Art Klub Music Jam will showcase the kids' accomplishments with the 2nd Chance Brass Band at an open house and concert.
Art Klub
1941 Arts Street
Saturday, May 13th, 6pm-9pm
$10 suggested donation
Food and drink available at the concert
No one turned away for lack of funds
100% of the donations will goes towards continuing to fund the program.
Who are we?
With the generous support from Threadhead Cultural Foundation, artist inc. and Art Klub has created Kids Brass Music Jam, facilitated by the 2nd Chance Brass Band. Kids Brass Music Jam is an ongoing educational event teaching, mentoring and inspiring kids through music classes and instruction on brass trombone, trumpet, sousaphone and drums. Art Klub has been offering ongoing music lessons and jams since the turn of 2017 on Monday evenings from 4:30pm-6pm. The classes are accessible to any kids who show commitment and enthusiasm to participate with the program. Instruments provided for those that do not have their own.
The Program
Young Musicians (Ages 10-17) sign up for this exceptional five-week session of percussion and brass band instruction with the 2nd Chance Brass Band.
The Kids Brass Music Jam is happening! Witness the magic of New Orleans brass band traditions and Louisiana musical and cultural heritage in a collaboration between Artist International Connection (Artist, Inc.) 2nd Chance Brass Band and the promising young talent of St. Roch neighborhood's young musicians.
With generous support from the Threadhead Cultural Foundation, (www.THCFNOLA.org), Kids Brass Music Jam is an ongoing educational event that teaches, mentors and inspires kids through music classes and instructions on brass trombone, trumpet, saxophone and sousaphone and more!
At Art Klub, located in St. Roch, we hope to instill a love for playing and listening to music with community centered programming.
Come out to enjoy and continue our Louisiana music traditions in support of our kids and the performers of 2nd Chance Brass Band during this amazing night of big brass music and New Orleans rising talent.
Sessions are led by the professional musicians of 2nd Chance Brass Band. Their mission is to provide music and art instruction and facilitate jam sessions with the young musicians of New Orleans. The final session of the series will culminate in a public performance with the band at Art Klub.
Ongoing sessions will be held on: MONDAYS 5:00-6:00pm
Instruments Provided!
SCHOLARSHIPS AVAILABLE - NO one turned away for Lack of Funds!
SCHOLARSHIPS will be awarded based upon COMMITMENT of student
Special thanks to the Threadhead Cultural Foundation for grant funding for the Kids Brass Music Jam series!
For more information or to sign up, please email: Reese.ArtKlub@gmail.com or call Reese at (504) 583-8232.