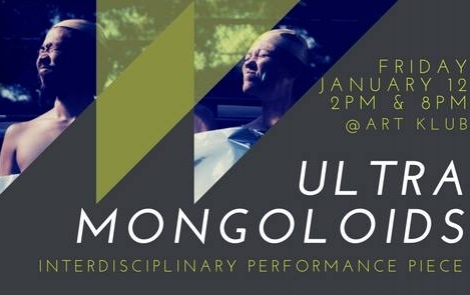 Join us for a interdisciplinary performance by featured P.S. 4: Scavengers artist, Ryuta Dutah Iwashita Suderman.
Interdisciplinary Performance Piece
"U l t r a M o n g o l o i d s"
First Show: 2:00pm
Second Show: 8:00pm
Artists/Students: $10
General: $20
(No One Turned Away for lack of funds)

Facebook RSVP: https://www.facebook.com/events/1555207971212337/
(((((((((((((((((((((((((((((((((((((((((((((
This interdisciplinary performance piece explores the tension and fluidity of identity around race and ethnicity in the South, as inspired by the artist's recurring encounters with neighbors addressing him (a Japanese national) by saying, "Ni hao (hello in Chinese)." Hovering between comfort and discomfort, the artist will playfully render the racial and ethnic typology more obscure and insignificant.
)))))))))))))))))))))))))))))))))))))))))))))))

Cast
Ryuta Iwashita
Rhia Jade

Videography
Sally Richardson

Set/Costume
Ryuta Iwashita

Lighting/Sound
Kristen Gremillion

This project is also linked with the painting series "Ultra Mongoloids" which is currently exhibited in Art Klub.